Hey there!
I'm currently investigating how to override the way a slice gets pasted depending on where the paste/drop 'selection target' is.
---
Current Behaviour
As an example, when pasting content into a table - rather than splitting the node in half when pasting content like: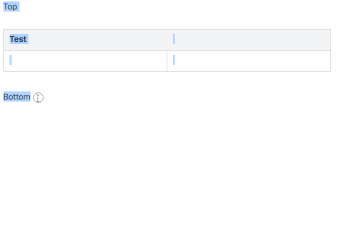 ---
Wanted
I'd rather override the pasting behaviour to unwrap the table-cell contents and show the content in a list like:

---
To get this behaviour, I can't use transformPasted as there's way no to access the state / selection so I'm forced to override both handlePaste and handleDrop and reimplement all of the logic prosemirror-view already does for these handlers to iterate through the slice and unwrap the table/tableCell.
I'm wondering what people think is the best course of action, either:
Do nothing, and just copy across the handlePaste/handleDrop handlers from prosemirror-view (at the risk of not getting bug fixes / incurring the maintenance cost of owning this code)
Try and get the logic to paste / drop a slice (like https://github.com/ProseMirror/prosemirror-view/blob/8363b38d52a08035feae71459b49895916fd84f6/src/input.js#L512) to their own commands in PM-View
Try and change transformPasted to have the signature: transformPasted:: ?(slice: Slice, view: EditorView, event: dom.Event) → Slice but the argument ordering is strange when compared to handlePaste & handleDrop
A better idea?