I'm currently working on the implementation of an unindent command for nested list items.
The goal is to allow the user to unindent a number of list items like it is possible in other rich text editors like Word or Google Docs using Shift-Tab. I'm talking about the visual unindention of items, which changes the hierarchical relationships of the underlying model in a way, that only makes sense from the visual perspective.
Here is an example: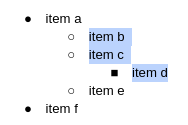 Hitting "Shift-Tab" should lead to the following result: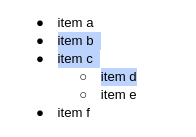 There is currently an issue open that talks about this: https://github.com/ProseMirror/prosemirror/issues/92
The command should allow users to type inside list items, while another user changes the indention level, while keeping the correct cursor positions and without losing changes. Furthermore, I would like to keep a hierarchical data model for the nested lists.
In the GitHub issue I came up with an algorithm that should perform the needed operations to update the hierarchical relationships of the list items in the desired way.
Unfortunately, the needed steps involve moving list items around in the hierarchy and from what I have seen in the transform module, I would have to delete and reinsert items at a different position to achieve this. Unfortunately this would probably prevent a collaborative use case like I described above, right? (I assume that cursor positions of deleted nodes are lost)
Now my question is what would be the best approach to implement an unindent command that fulfills the aforementioned requirements? Maybe I'm overthinking this and there is an easier approach to this problem? Maybe some changes in the schema would allow this in a better way? I would be very thankful for ideas and input on this.
In case my current approach is the right direction, I think that having a "move" step where I can move a node from one position to another position would help. This step would then need to take care of mapping the positions. I haven't looked into the inner workings of the steps and position mapping, so I'm not sure if this would be possible.
Looking forward to some input on this!