I was building a text editor in VueJS using prosemirror as the backbone. It has floating menu options for formatting, inline math node for allowing inplace math node and atomic block node that allows editing math on demand. The block_math node has following schema
    group : 'block',
    content: 'block*',
    attrs: {latex: {default: " (NH_4)Cr_2O_7  \\to  Cr_2O_3 + N_2 + 4H_20 "}},
    atom : true,
    selectable: true,

    parseDOM: [{
      tag: "div.block-math[latex]",
      getAttrs(dom) {
        let latex = dom.getAttribute("latex");
        return {latex};
      }, 

    }],
    toDOM(node) {
      let mathHtml =  blockMathHtml(node.attrs.latex);
      let mathDom = htmlStrToDom(mathHtml);
      return ["div", {class : 'block-math text-caption', latex : node.attrs.latex}, mathDom];
    }
  }

The floating menu I have implemented is node aware. if I select a node of type paragraph and selection is non empty it shows formatting menus [B, I, f(), H1, H2] etc. If the paragraph node has empty text content it show embedding menus that allows inserting figure, block_math, video etc. Everything is working so great except the following issue: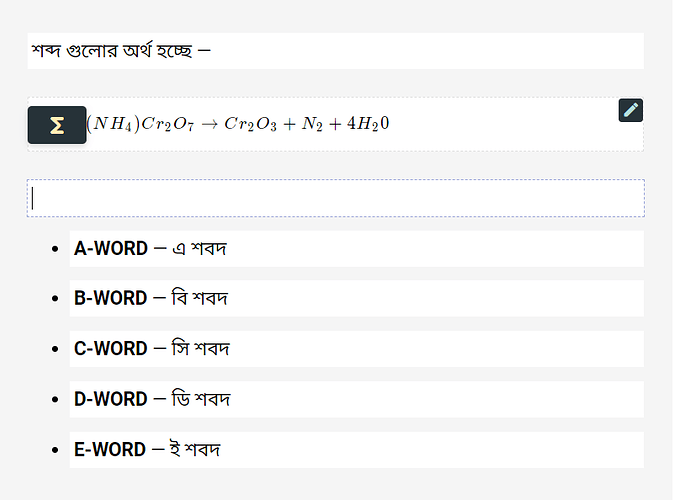 Notice the gape between empty paragraph with light blue dotted border and the floating embedding menu with block_math insert option. To place the menu at the top + 4px of the cursor I am using let start = this.editorView.coordsAtPos(from); however for some reason an extra large space gets added when there is an atomic block_math node near it which doesn't happen for p+p, ul+p, ol+p etc etc
I have tried lots of way to resolve the issue but nothing seem to help. Any kind of direction has a big thanks in advance.