I could be mistaken but it seems like the isComposing of the view can get out of sync (at least in iOS) when IME is involved. I'm on iOS 14.8 using the prosemirror.net editor along with the japanese (kana) keyboard (perhaps happens with other that use IME?). The steps appear to be:
Clear the contents of the editor.
Switch to the japanse keyboard and type a few characters (e.g. the key in the lower right of this image)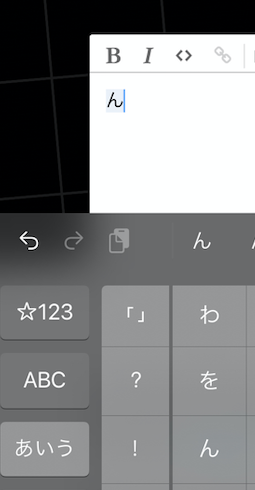 .
Then tap B to toggle/enable the bold mark. At this point internally in prosemirror i believe the setMark ultimately calls clearComposition which sets the isComposing flag back to false.
Now press another key - e.g. the one immediately to the right of the one pressed above. The result is that no text is displayed in the editor. It seems that it is actually updating the content (or so it seemed while debugging it) but then that is getting stepped on. Ultimately I think the issue is that the isComposing flag remains false but the editor is still within a composition. Perhaps the isComposing state should be reinitialized from the isComposing of any key event (assuming that is present/supported by the browser)?