Our documents have "markers" which are rendered as little blue flags by a nodeview. Ideally, these would be treated atomically, with the cursor navigation moving from one side to the other with a single arrow press (i.e. like a single character). What we see, though, is this: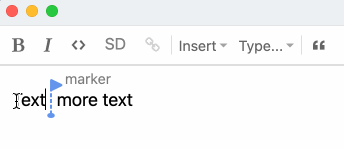 As far as I can tell, when the cursor is "inside" the marker, the marker node is selected; indeed, if I type something in that state, the marker is replaced by the text.
If I make the marker node unselectable through its NodeSpec, I get the cursor navigation behavior I want, but I lose the ability to select and move the flag with the mouse.
Is there a way to get both qualities, the navigation around the marker and the ability to select it?