Hi, I would like to prevent text blocks from being joined by UI interaction.
For example, in the gif below, the paragraph text is being joined with the text in the blockquote after deletion of the selected range, which is the behavior I would like to prevent.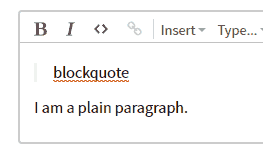 The only way I can think of to do this is to filter out offending ReplaceStep(s) in Plugin#filterTransaction and rebuild and re-dispatch them to delete the text in each respective block without joining them.
I tried using a custom schema, but it appears that joining text ignores schema requirements and is joined anyway.
Is there an easier way that you can think of, or am I on the right track? Any help would be appreciated.